One of the hardest things I had to do on a professional level was to come out of my cave. Not a literal cave of course, but the image fits nicely. When I began coaching years ago I worked out of this cave. To the right of the opening I hung my professional coaching credentials and declared myself open for business. And into my cave I'd invite people to come and sit with me for a while. I loved my cave, and I loved coaching in my cave.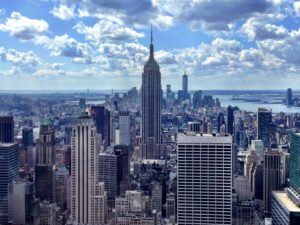 As an introvert who generally prefers the intimacy of the 1-1 conversation, my cave also sheltered me from the hustle and bustle of the world outside. Occasionally I would venture forth to make new contacts, present a proposal, and solicit new clients, but for the most part I could stay in my cave and do what I loved to do most. And best of all, from the shelter and security of my cave, I could limit how visible I was in the world.
For a number of years this model worked very well. I built up a comfortable coaching practice and prospered in my cave. But then something shifted. I had an extraordinary desire to expand my work beyond the limits of my cave. Of course this engendered no small amount of fear and soul searching, in part because it was so darn comfortable to stay put. To expand my work beyond my cave meant that I would need to not only step outside more frequently, but I'd have to find ways to be seen by more and more people. In short, I'd have to become far more visible.
Yikes.
I'll be honest, I also hesitated because I wasn't enamored with what I saw happening outside my cave, on the information superhighway that had been built in front. What I saw was an incalculable number of people all competing to be seen and heard. From the doorway of my cave, I could see this massive freeway of roaring, zooming traffic, and all along the sides of the freeway were people holding up placards in all shapes and sizes, with lights and horns and bells and whistles, offering free goodies and instant pleasures, sizeable lists and untold riches, and the wisdom of the world in 21 days. Some of it was truly amazing; much of it was whatever the opposite of amazing is.
Is this what it would take to expand my work in the world? Would I have to stand on the side of that superhighway with my placard (which at the time was a piece of cardboard with the words "I'd love to coach you" written in black marker) and try to get some semblance of attention from those whose attention was already drawn to the thousands of other messages scrolling by? Say it ain't so.
Disconcerted, I went back into my cave and did some more soul searching. Did I really want to participate in that scramble for attention? Did I really want to use the bells and whistles and horn-tooting tactics that the online experts were saying had made them successful and I'd be too if I just did what they did? Just standing next to the superhighway made me feel uneasy, like my soul was being sucked dry. I stand for the affirmation of life at its deepest level, how can participating in this endless stream of chatter and blitz support that?
After some time (with the help of good coaching of course) my concerns came down to two core issues: if I was to become an active participant alongside the superhighway, could I remain authentic and true to myself, and the essence of my work? And more importantly, if I was to become more visible and transparent in this way, would I be safe? Being authentic in the way I knew I needed to be felt like standing stark naked on a street in New York. What would people think of me? What would happen to me?
What I have observed about the Internet and its social media platforms is that it is often used as a means for putting up a false or partial image of self. On the Internet, you can be whoever you want to be. And it's relatively easy to built up an idealized image and project that image online. What is not so easy is to be deeply authentic and transparent: to reveal the essence of Who You Are and what your life stands for when stripped away of the need to "be seen as…".
My hesitancy in expanding my work into the world by participating and leveraging the Internet and the social media movement was just that: who would I be seen as? Would I be okay? In my soul I knew any increase in my visibility had to connect with the expression of my most authentic self. And yet I had no experience doing that. Never had I "stood naked in New York," and no way of knowing what people would think or whether I would be safe if I did. My cave was safe, and it was working. It was just this incredibly powerful impulse to be about my life's work in a much bigger way that was calling me to the highway's edge.
The beauty about the inner call is that there is only one way to satisfy it: commit your life to it and move forward through fear and doubt. That is the heroic journey. How the superhighway is used and who is doing what on the roadside is not the issue; it was my own fear of being seen for Who I Am and revealing what I stand for at its most authentic level. I do believe that becoming visible in this way is the journey for all coaches. Less surface, less styling, less image crafting, less needing to be seen as successful or polished.
We are living in the age of transparency. People are tiring of the smoke screens and increasingly standing for authentic self expression, because deep down we know that truth will lead us in the direction of positive change and our greatest potential. This is the essence of coaching, and all of us coaches can lead the way by stepping out of whatever cave of comfort we have created, out of whatever persona we have crafted for the world to see, and modeling authentic, transparent living online and off. For when we bring the truth of who we are to the world, it becomes its own kind of placard. Very few dare to stand naked in New York.